Science (Applied)
Available as Extended Diploma (Equivalent to 3 A Levels) or Extended Certificate (equivalent to 1 A Level with two other subjects)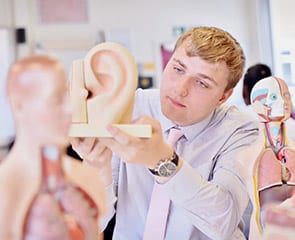 If you study Applied Science, there is a wide range of career paths you could take, including pharmacy, engineering, nutritional science and nursing.
CONTENT
This two-year, full-time course is equivalent to 3 A Levels, which means you can progress to a range of universities. During the course, you'll study science investigation skills, principles and applications of science, genetics and genetic engineering, physiology of human body systems and electrical circuits and their application. You'll also develop medical physical techniques, laboratory techniques and their applications, investigative science project, microbiology and microbiological techniques and forensic evidence collection and analysis.
ENTRY REQUIREMENTS
Four GCSEs grade 9-4, including Maths and English at Grade 4
ASSESSMENT
This course is available as an Extended Diploma, equivalent to three A Levels, or an Extended Certificate, equivalent to one A Level and designed to be taken with two other Extended Certificate subjects.  It is assessed both internally and externally by set tasks and examinations.
Find the right course for you: