Information Technology
Available as Extended Diploma (Equivalent to 3 A Levels) or Extended Certificate (equivalent to 1 A Level with two other subjects)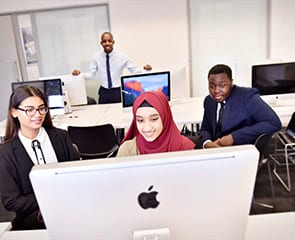 This is an excellent course to study if you are considering a degree or career in information systems, computer animation, website design or database administration.
A BTEC in Information Technology is also a good pathway to combine with business information systems and project management.
CONTENT
You will be studying the relationship between hardware and software, managing and communicating information and data, and the principles of designing and developing digital technologies and processes to support organisations. This course also includes a choice of optional units, covering areas such as data modelling and analytics, mobile internet technologies, creative technologies and enterprise for IT. The core units you will study include Information Technology systems, creating systems to manage information, using social media in business, programming, IT project management, cyber security and incident management and IT service delivery.
ENTRY REQUIREMENTS
Four GCSEs grade 9-4, including Maths and English at Grade 4
ASSESSMENT
This course is available as an Extended Diploma, equivalent to three A Levels, or an Extended Certificate, equivalent to one A Level and designed to be taken with two other Extended Certificate subjects.  It is assessed both internally and externally by set tasks and examinations.
Find the right course for you: