T LEVEL IN HEALTH
(Equivalent to 3 A Levels)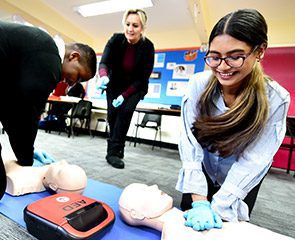 Do you have a mission to improve and save lives?
Our T Level in Health has been designed by health and care employers to train and prepare you for a role supporting health care in nursing or midwifery.
If you choose to continue your studies beyond your T Level, you could study a range of health-related subjects at university. This will provide you with further career routes such as nursing, health care, paramedic, occupational health, speech and language therapy, counselling, physiotherapy and more.
Other career options involve solving issues we face as a society – through becoming a youth worker, a social worker or a counsellor. You could also go on to teach this subject in a college or university.
CONTENT
The COVID pandemic shone a light on the importance of our health care heroes – both in the NHS and in private care facilities. If you are interested in supporting health care in nursing or midwifery, this exciting new Health T Level will give you the experience and skills required to be successful.
The course is focused towards training you to work in the health sector in a front-line role, supporting midwifes or adult nurses. There are a number of additional career options available to you when you progress from this course on to degree apprenticeships or full-time university study. After gaining a relevant degree, careers could include speech and language therapy, occupational health, or becoming a qualified midwife, paramedic or nurse.
You will learn in our state-of-the-art health facilities, which includes a careful recreation of a working hospital ward.
The T Level in Health will mix learning at CTK Emmanuel with work placements over a 45-day period.  You will bring your work placement skills and experience back to your CTK teaching sessions, and you will be able to apply your academic learning while on your work placements.
HEALTH WORK PLACEMENTS
"I found my placement invaluable in gaining experience working with patients who have different medical conditions including depression, Alzheimer's, and Schizophrenia. I have experienced the many ways in which these conditions affect each individual, and I have learned how medication helps them."
Bridget – CTK Emmanuel student

"The CTK students who complete work placements take on valuable roles within our care settings, experiencing as many real-life situations with our residents as possible. For us as a care organisation, it has been very beneficial to have such positive students who can interact with our residents, whether running activity sessions or taking time to have a conversation with them."
Roselyn – Manager, Waterfield Supported Homes
Find the right course for you: