PSYCHOLOGY
This subject is an Extended Certificate, and is taken with two other subjects, from the following; Art, Business, Health & Social Care, ICT, Media, Science or Forensic Science.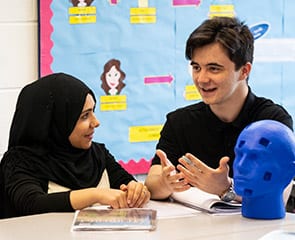 This course provides students with the knowledge, understanding and skills to prepare for further study or training in a psychology based career.
CONTENT
Psychology is the scientific study of the mind and human behaviour. It is an interesting subject that can help you understand why people think, feel and behave in the way that they do.  This course provides an exciting opportunity to find out about different areas of psychology. You will learn how psychological theory and psychological research is applied to real world situations and problems to produce practical solutions.
You will learn about the social, biological, cognitive and learning approaches in psychology. You will learn key studies and theories within psychology and apply knowledge to specific areas of society including aggression, consumer/employee behaviour and gender identity. Students will also study research methods and complete a piece of coursework and research which will develop skills of investigation, problem-solving, analysis and creative development.
ENTRY REQUIREMENTS
Four GCSEs grade 9-4, including Maths and English at Grade 4.
ASSESSMENT
This course is available as an Extended Certificate, equivalent to one A Level and designed to be taken with two other Extended Certificate subjects.  It is assessed both internally and externally by set tasks and examinations.
Find the right course for you: