How to impress employers when you complete your BTEC
If you're taking your GCSEs soon, no doubt you will be starting to have lots of questions about your next steps and how they can land you a successful career – and soon!
Common questions about career choices when you study a BTEC:
How do I know which BTEC will lead to a career I would be good at?
What experience will I need on my BTEC, so that employers are impressed with my job application?
Which BTEC course gives me the best employment options?
Should I do an apprenticeship or a full time BTEC?
These are queries that our careers team hear quite often – so they are very happy to help you decide on your best option. Use our contact us form to request a careers appointment to help you with your BTEC course choice.

Once you become a student at CTK Emmanuel, building your employability is one of our biggest priorities (along with giving you a great learning experience, of course!)
Read on to find out how we help you shine when it comes to impressing employers after you graduate from your BTEC or university course.
What does employability actually mean?
Employability means that as well as having a qualification, you also put a lot of effort into ensuring that an employer who is interviewing you or employing you, will value your:
Attitude
Experience
Skills
Willingness to think quickly or put forward ideas
Team working with colleagues
Punctuality
Personality
Individual Strengths
Resilience
And much more. We want employers to have that confidence that when they hire you, they hire someone who is going to grow and learn with them, making a valuable contribution to their business.
That's why we place great emphasis on developing you as a whole person, through our unique Character Education Programme, The CTK Graces. These graces signifies the character traits that we ensure our students develop in their expectations, habits and behaviours. Grit; Respect; Awareness; Curiosity; Endeavour; Self-esteem.
How can I show employers that I have a good attitude and work experience, as well as a BTEC?
We strongly recommend that you keep a record of all your positive achievements and contributions to society and your community. Keep an informal record of these things and what they have taught you, or how you have developed as a person as a result. Examples of things to record are:

– Extra responsibilities taken on at school or college
Saturday jobs, part time work, and work experience placements
Times when you faced a challenge (big or small) and how you overcame it
Times when you failed and kept going to improve
Being in a sports team or a community group
Mentoring other young people
Caring for relatives or people in your community
Helping others to get their voice heard
Raised money for a good cause
Stood up for someone who needed you
Recognised the right thing to do in a difficult situation
Remembering these things can help you with your CV or to answer questions in a job interview. One day it will help to build your personal brand as you remember the things you did and challenges you overcame. You will realise your potential to inspire others or convey your values as an employee or entrepreneur.
Take every opportunity to build your work experience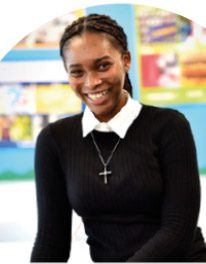 BTEC Business student Maya completed several work placements while she was a student at CTK, including placements at Urban Synergy, Boku, British Heart Foundation, and prestigious global companies EY (formerly Ernst & Young) and M&G plc.
She explains:
"I have seized every opportunity at CTK. As a result, I have worked with some inspirational people, developed good contacts in major organisations, and most importantly, had some amazing work placements.
I spent 5 weeks working for EY in their Canary Wharf and London Bridge offices. I shadowed the HR team and assisted in recruitment interviews – this has helped me decide on a career in HR and choose my university course. I also achieved a team leadership qualification and a Prince II qualification with EY, which is great to have on my CV. Bosses at EY gave me great feedback. They liked that I was always pushing myself.
I completed a mentorship with Urban Synergy. I was paired with a HR Director, who helped me learn more about HR on a day-to-day basis including carrying out mock interviews and presentations. I also spent a week working at M&G Plc, a global savings and investment company which operates across the Americas, Asia Pacific, Europe, Middle East & Africa.
After that I completed an internship with tech company Boku in their European head office here in London.
The work placements and mentoring have shown me that I can step out of my comfort zone – I have sat in on talks with a range of people in global companies about asset management, HR, diversity and inclusion. I have learnt a lot about company culture and the kind of environments I like to work in. The insight and contacts have made me confident communicating in the workplace. I know what to say, how it comes across, how to present myself and how to be helpful and show my value to an organisation."
Find the right course for you:
Franklin

EMMANUEL

Grades achieved: D*DD Progressed to: Kingston University Course: BTEC Engineering

"Being at Christ the King has been a great and immersive experience. CTK is a place for growth, discovery, and adapting to new challenges. I received a £15,000 Metric Capital scholarship to help me go on university to study Engineering."

Jorge

EMMANUEL

Grades achieved: D*DD Progressed to: Brunel University Course: BTEC Sport Level 3

"I've had a great experience at CTK. I've met a lot of new people and gained knowledge that I will need in the future. I'm going to study Sport and Exercise Science at Brunel University. My teachers always went the extra mile to make sure I had all my work completed. I would recommend CTK because the knowledgeable and passionate teachers always help students to succeed."

Joy

EMMANUEL

Grades achieved: D*D*D Progressed to: Kingston University Course: BTEC Applied Science

"CTK offers good opportunities and a wide range of courses that I was very interested in. I have learnt excellent time management and determination through the support and advice of my teachers, this is what helped me to achieve my grades. "

Chizoba

EMMANUEL

Grades achieved: D*D*D* Progressed to: Aston University Course: BTEC Level 3 Business

"Studying at Christ The King has enabled me to become more independent as a person, as I was able to take on more responsibility for my own learning and acquire new skills such as my time management and organisational skills."

Klaudija

EMMANUEL

Grades achieved: D*DD Progressed to: University of Greenwich Course: BTEC Level 3 Health & Social Care

"The teachers at CTK are very talented, and they helped me to achieve my best. Everyone is always there to support you as a young individual in all possible areas. I recommend CTK because students always receive the support they need. There are many different activities and opportunities that students can get involved in and improve on a variety of skills."