CTK students Design an App in a Day with BNYMellon
Information and Communications Technology (ICT) students from CTK were given the chance to spend an amazing day at the central offices in London of BNYMellon to learn how to Design an App in a Day.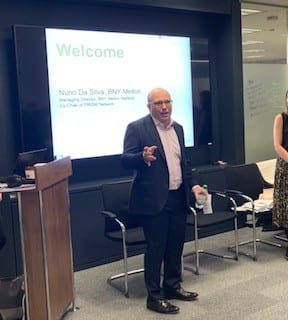 The Design an App in a Day workshop took key elements from the Apps for Good course, guiding pupils through an interactive development model where they began with an idea and ended with a pitch, outlining their final prototype. Students had the opportunity to hear from BNY Mellon volunteers about a real-world challenge and then had the opportunity to come up with a tech solution. Students explored user needs and features, market research and user profiling before finally, creating drawn wireframes of their app ideas and pitching them back to the class and volunteers. Collaborative working, problem solving and communication skills were are all encouraged and developed during this innovative workshop.
Many students afterwards described the day as being the most productive workshop of their studies so far!
Find the right course for you:
Franklin

EMMANUEL

Grades achieved: D*DD Progressed to: Kingston University Course: BTEC Engineering

"Being at Christ the King has been a great and immersive experience. CTK is a place for growth, discovery, and adapting to new challenges. I received a £15,000 Metric Capital scholarship to help me go on university to study Engineering."

Jorge

EMMANUEL

Grades achieved: D*DD Progressed to: Brunel University Course: BTEC Sport Level 3

"I've had a great experience at CTK. I've met a lot of new people and gained knowledge that I will need in the future. I'm going to study Sport and Exercise Science at Brunel University. My teachers always went the extra mile to make sure I had all my work completed. I would recommend CTK because the knowledgeable and passionate teachers always help students to succeed."

Joy

EMMANUEL

Grades achieved: D*D*D Progressed to: Kingston University Course: BTEC Applied Science

"CTK offers good opportunities and a wide range of courses that I was very interested in. I have learnt excellent time management and determination through the support and advice of my teachers, this is what helped me to achieve my grades. "

Chizoba

EMMANUEL

Grades achieved: D*D*D* Progressed to: Aston University Course: BTEC Level 3 Business

"Studying at Christ The King has enabled me to become more independent as a person, as I was able to take on more responsibility for my own learning and acquire new skills such as my time management and organisational skills."

Klaudija

EMMANUEL

Grades achieved: D*DD Progressed to: University of Greenwich Course: BTEC Level 3 Health & Social Care

"The teachers at CTK are very talented, and they helped me to achieve my best. Everyone is always there to support you as a young individual in all possible areas. I recommend CTK because students always receive the support they need. There are many different activities and opportunities that students can get involved in and improve on a variety of skills."