Pilgrimage to Medjugorje
A member of staff was keen that the community at Christ The King made a pilgrimage to Medjugorje. A group of sixteen staff and students set off just before Easter.
They quickly settled into the prayerful routine of the place which is in Bosnia Herzegovinia. Christine the guide who accompanied the group up Apparition Hill carefully explained the history of the place from when our lady first appeared at Medjugorje in 1981 at which the country was under the reign of Communism. Fr Leon who is the English chaplain and who has visited Woolwich talked to the group of his own religious experience Visits were also made to Mary TV, Mostar and Cross Mountain. Personal experiences included the ineffable quality of the music at international services, the smell of the roses, and the meaningful conversations end encounters that occurred.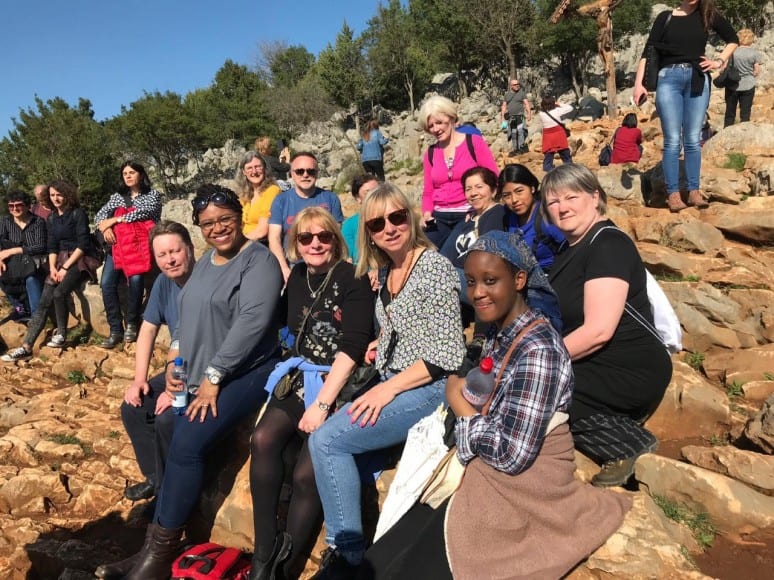 Our Lady asks pilgrims to promote Medjugorge as the spiritual centre of the world and that we carry out the following;  read the Bible, go to confession, receive the Eucharist, fast of Wednesdays and Fridays and say the rosary.  To help us remember we can carry five small stones from Medjugorge.  The community at Christ the King offers an annual pilgrimage as part of its Catholic life programme. This pilgrimage to was exceptional because of its uniqueness.  Everyone in the group returned home a little bit changed for the better and would recommend to all.  It was perfect in every way.  You will not be disappointed.
Find the right course for you:
Franklin

EMMANUEL

Grades achieved: D*DD Progressed to: Kingston University Course: BTEC Engineering

"Being at Christ the King has been a great and immersive experience. CTK is a place for growth, discovery, and adapting to new challenges. I received a £15,000 Metric Capital scholarship to help me go on university to study Engineering."

Jorge

EMMANUEL

Grades achieved: D*DD Progressed to: Brunel University Course: BTEC Sport Level 3

"I've had a great experience at CTK. I've met a lot of new people and gained knowledge that I will need in the future. I'm going to study Sport and Exercise Science at Brunel University. My teachers always went the extra mile to make sure I had all my work completed. I would recommend CTK because the knowledgeable and passionate teachers always help students to succeed."

Joy

EMMANUEL

Grades achieved: D*D*D Progressed to: Kingston University Course: BTEC Applied Science

"CTK offers good opportunities and a wide range of courses that I was very interested in. I have learnt excellent time management and determination through the support and advice of my teachers, this is what helped me to achieve my grades. "

Chizoba

EMMANUEL

Grades achieved: D*D*D* Progressed to: Aston University Course: BTEC Level 3 Business

"Studying at Christ The King has enabled me to become more independent as a person, as I was able to take on more responsibility for my own learning and acquire new skills such as my time management and organisational skills."

Klaudija

EMMANUEL

Grades achieved: D*DD Progressed to: University of Greenwich Course: BTEC Level 3 Health & Social Care

"The teachers at CTK are very talented, and they helped me to achieve my best. Everyone is always there to support you as a young individual in all possible areas. I recommend CTK because students always receive the support they need. There are many different activities and opportunities that students can get involved in and improve on a variety of skills."