Mercy, Love and Forgiveness Conference
Christ the King Emmanuel was proud to host a Mercy Love and Forgiveness conference this week. We were excited to be able to welcome distinguished speakers Reverend Jonathan Aitken, Lord Alton, Dr Lewis Herrington, Archdeacon of Hackney Elizabeth Adekunle, Jo Berry and Barry and Margaret Mizen.
This academic conference is part of a series of activities and events aimed at giving explicit effect to our mission. The conference explored and embedded key themes which stem from our college motto 'Ut Vitam Habeant' (That they may have life in all its fullness John 10:10), those key themes are Mercy, Forgiveness and Love.
Current global and local issues such as excesses of materialism, loneliness, religious persecution, poverty, humanitarian crisis and environmental concerns are just some of the political, social and economic questions facing us all. Drawing on gospel values we hope to begin to explore our spirituality and to examine how Mercy, Forgiveness and Love play a crucial role in transforming our communities, ourselves and leading us to greater love for all creation.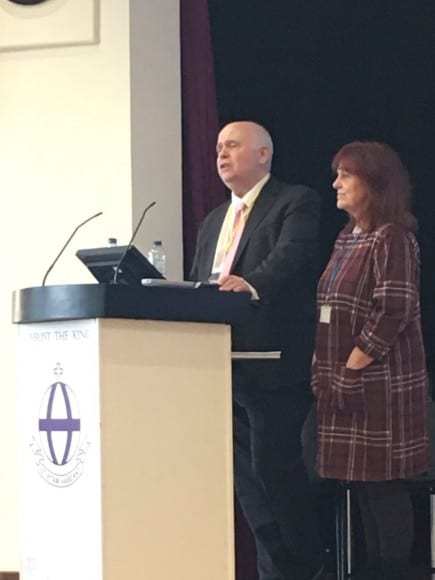 This opportunity to listen, engage and reflect would hopefully have helped to guide leaders of current and future generations to a world that is unafraid to show mercy, forgiveness and love. It will challenge us all to live a good life in all its fullness.
Find the right course for you:
Franklin

EMMANUEL

Grades achieved: D*DD Progressed to: Kingston University Course: BTEC Engineering

"Being at Christ the King has been a great and immersive experience. CTK is a place for growth, discovery, and adapting to new challenges. I received a £15,000 Metric Capital scholarship to help me go on university to study Engineering."

Jorge

EMMANUEL

Grades achieved: D*DD Progressed to: Brunel University Course: BTEC Sport Level 3

"I've had a great experience at CTK. I've met a lot of new people and gained knowledge that I will need in the future. I'm going to study Sport and Exercise Science at Brunel University. My teachers always went the extra mile to make sure I had all my work completed. I would recommend CTK because the knowledgeable and passionate teachers always help students to succeed."

Joy

EMMANUEL

Grades achieved: D*D*D Progressed to: Kingston University Course: BTEC Applied Science

"CTK offers good opportunities and a wide range of courses that I was very interested in. I have learnt excellent time management and determination through the support and advice of my teachers, this is what helped me to achieve my grades. "

Chizoba

EMMANUEL

Grades achieved: D*D*D* Progressed to: Aston University Course: BTEC Level 3 Business

"Studying at Christ The King has enabled me to become more independent as a person, as I was able to take on more responsibility for my own learning and acquire new skills such as my time management and organisational skills."

Klaudija

EMMANUEL

Grades achieved: D*DD Progressed to: University of Greenwich Course: BTEC Level 3 Health & Social Care

"The teachers at CTK are very talented, and they helped me to achieve my best. Everyone is always there to support you as a young individual in all possible areas. I recommend CTK because students always receive the support they need. There are many different activities and opportunities that students can get involved in and improve on a variety of skills."