LAW
This subject is an Extended Certificate, and is taken with two other subjects, from the following; Art, Business, Health & Social Care, ICT, Media, Science or Forensic Science.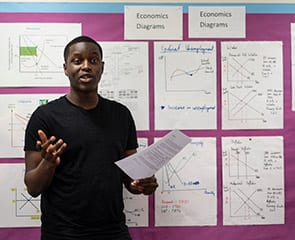 Law is designed to appeal to learners who are interested in a career in law or who are planning to go to university and want to gain a good understanding of law.
CONTENT
Do you know your rights? Are you interested in a career in Law, or studying Law or a Law-related course at university? This course provides an excellent introduction to law and gives you an edge when progressing to higher education and employment.  The Law course is an enjoyable but challenging way of learning about how our English Legal System works. You will take a practical approach to learning about how laws are made and the structure of the court system.   You will learn the basics of criminal liability and the tort of negligence and will apply this knowledge to situations involving fictitious clients.  You will build on this knowledge and study criminal law and the law of tort in more depth, including the law on homicide and police procedure. You will develop key skills in legal research and communication, whilst also developing the independent learning skills needed for university study and future employment.  This course will give you the equivalent of one A level over two years of study and is 40% coursework based.
ENTRY REQUIREMENTS
Four GCSEs grade 9-4, including Maths and English at Grade 4.
ASSESSMENT
This course is available as an Extended Certificate, equivalent to one A Level and designed to be taken with two other Extended Certificate subjects.  It is assessed both internally and externally by set tasks and examinations.
Find the right course for you: